The "Global Matchmaking Club" cross-border matchmaking platform is independently developed by ICBC and is open to global enterprises free of charge. Matching activities and other core functions. Since the platform was launched for more than two months, it has attracted nearly 20,000 enterprises to settle in, covering more than 40 countries and regions, covering more than 30 industries such as food and medicine, energy and chemical industry, and technical equipment. The platform is committed to conforming to the general trend of open and cooperative world economic development, serving the new development pattern with the concept of inclusive finance, and continuously contributing financial positive energy to the building of an open world economy.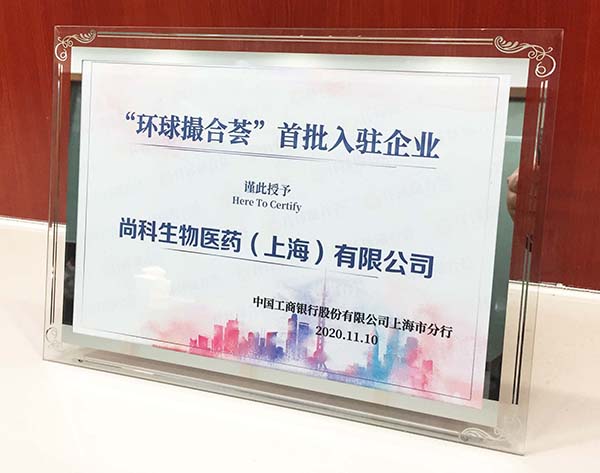 During the 3rd CIIE, ICBC held a trade fair along the "Belt and Road" at the National Convention and Exhibition Center (Shanghai) by relying on the "Global Matchmaking Club" cross-border matchmaking platform. Dr. Zhu Wei, general manager of Shangke Biotechnology, was invited to participate in this event and had in-depth communication with the representatives of participating companies present.
As a "Shanghai High-tech Enterprise", "Shanghai Specialized Specialized New Enterprise", "Pudong New Area Enterprise Technology Research and Development Institution" and benefiting from the advantages of Shanghai International Financial Center, Suntech Biopharmaceutical (Shanghai) Co., Ltd. combines its own global strategy, and the "Global Matchmaking Club" cross-border matchmaking platform is seamlessly connected. Shangke Bio was established in 2008. The company aims to create a better life with green technology. The main business covers: development and application of biological enzymes; development and production of pharmaceutical intermediates, APIs and functional chemicals. The main products are coenzyme series products, including NMN, NAD, NADP, NADH, NADPH, biological enzymes, pharmaceutical raw materials and intermediates, etc. Our partners are all over the world, and we have formed close cooperative relations with many pharmaceutical companies in North America, Europe, India, China and other countries. Welcome new and old customers to discuss cooperation!
---
Post time: Nov-13-2020