Product Detail
Product Tags

| | | |
| --- | --- | --- |
| Enzymes | Product Code | Specification |
| Enzyme Powder | ES-NHT-101~ ES-NHT-124 | a set of 24 Nitrile Hydratases, 50 mg each 24 items * 50mg / item, or other quantity |
| Screening Kit (SynKit) | ES-NHT-2400 | a set of 24 Nnitrile Hydratases, 1 mg each 24 items * 1mg / item |
★ High substrate specificity.
★ Strong chiral selectivity.
★ High conversion.
★ Less by-products.
★ Mild reaction conditions.
★ Environmentally friendly.
➢ Normally, the reaction system should include substrate, buffer solution (optimum reaction pH) and ES-NHT.
➢ All the ES-NHTs can be tested respectively in the reaction system above or with the NHT Screening Kit (SynKit NHT).
➢ All kinds of ES-NHTs corresponding to various optimum reaction conditions should be studied individually.
➢ High concentration Substrate or product with may inhibit ES-NHT's activity. However, the inhibition can be relieved by batch addition of substrate, coupling with the amidases or product extraction.
Example 1(coupling with the amidase) (1):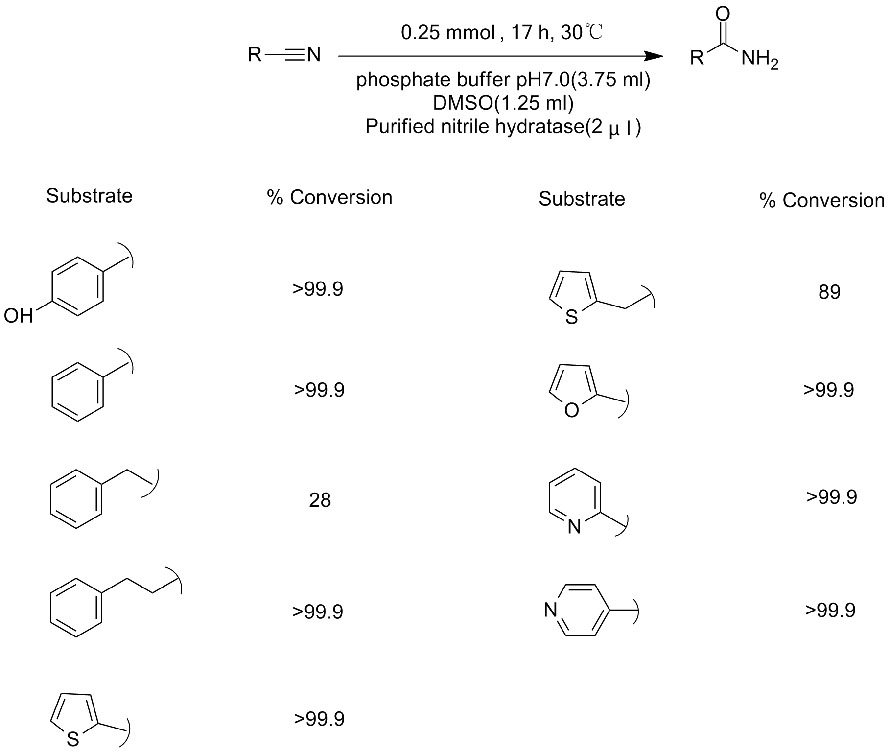 Never contact with extreme conditions such as: high temperature, high/low pH and high concentration organic solvent.
1 Vojtech V, Ludmila M, Alicja B V, e tal. J Mol Catal B-enzym, 2011, 71: 51-55.
2 Gary W. B, Thomas G, Christopher B. M, e tal. Tetrahedron lett, 2010, 51: 1639-1641.
---
Previous:
Nitrilase (NIT)
Next:
Nitrile reductase (NRED)
---
Write your message here and send it to us