Product Detail
Product Tags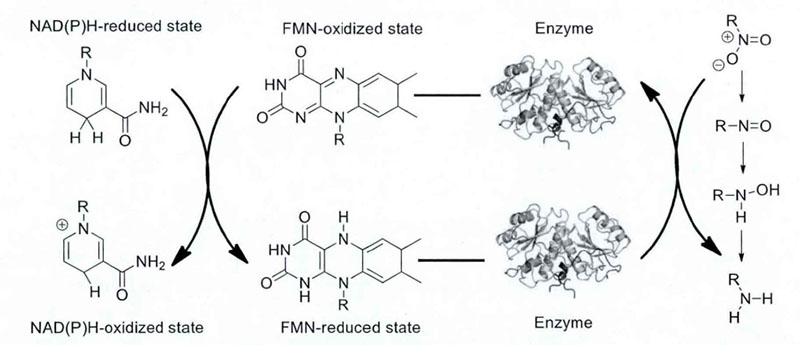 | | | |
| --- | --- | --- |
| Enzymes | Product Code | Specification |
| Enzyme Powder | ES-NTR-101~ ES-NTR-112 | a set of 12 Nitro Reductases, 50 mg each 12 items * 50mg / item, or other quantity |
| Screening Kit (SynKit) | ES-NTR-1200 | a set of 12 Nitro Reductases, 1 mg each 12 items * 1mg / item |
★ Broad substrate spectrum.
★ High conversion.
★ Less by-products.
★ Mild reaction conditions.
★ Environmentally friendly.
➢ Normally, the reaction system should include substrate, buffer solution (optimum reaction pH), coenzymes (NAD(H) or NADP(H) ), coenzyme regeneration system(e.g. glucose and glucose dehydrogenase) and ES-NTR.
➢ All kinds of ES-NTRs corresponding to various optimum reaction conditions should be studied individually.
➢ ES-NTR should be added last into reaction system with optimum reaction pH and temperature.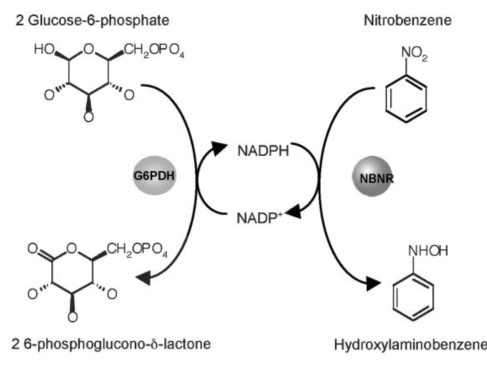 Never contact with extreme conditions such as: high temperature, high/low pH and high concentration organic solvent.
1 Dai R J, Chen J,Lin J, e tal. J Hazard Marer, 2009, 170, 141–143.
2 Betancor L, Berne C, Luckarift H R., e tal. Chem. Commun, 2006, 3640–3642.
---
Previous:
Nitrile reductase (NRED)
---
Write your message here and send it to us